S Tier Earth Characters
No magical characters in here yet, but there will be once the cutoff date is expanded past the end of October. Maria gets a chance to join the crew!
For now it's a Knight party. It's more crowded than it looks though. Bartz and The Ninjas exist in this space and in many others and shouldn't be overlooked.
Ingus (FFIII)
Ability Schools: White Magic 4, Combat 4, Support 4, Knight 6, Samurai 3
Estimated Date Activated: Current. USB in April.
Legend Motes: Spirit + Bravery
Legend Materia: LM1"Warrior of Earth"
Knight abilities deal 15% more damage, LM2"Bold Guard"
ATK +3% for each hit taken by damaging attacks, up to +50%, LMR"Loyal Heart"
25% chance to reduce damage taken by 30% when equipping a shield, LMR2"Steely Soldier"
Grants Attach Earth at the beginning of the battle
Legend Dive Candidacy: No.
Notable Abilities: Gaia Cross, Earth Bringer, Earth Saber
Signature Soul Breaks
BSB1 "Oathsworn Espada"
Four group Earth/NE attacks (1,20 each, 4.80 max), grants Haste, Oathsworn Espada"Oathsworn Espada" [ID:6007]
ATK and DEF +30% for 25 seconds, Attach Earth and Burst Mode to the user
Command 1: Two single Earth/NE attacks (0,98 each, 1.96 max), grants Sentinel"Sentinel" [ID:502]
DEF +200%, taunts single-target PHY and BLK attacks for 25 seconds to the user for 25 seconds
Command 2: Two single Earth/NE attacks (0,98 each, 1.96 max), grants Retaliate"Retaliate" [ID:508]
Can't be hit by PHY attacks, counters PHY attacks with Attack to the user for 15 seconds
CSB "Attested Strength"
Activates Earth Chain (max 99, field +20%), eleven single Earth attacks (0,72 each, 7.92 max), grants Last Stand"Last Stand" [ID:261]
Prevents KO once, restoring HP for 1% maximum HP to all allies
BSB2 "Faith Escutcheon"
Eight single Earth/NE attacks (0,84 each, 6.72 max), grants Earth Radiant Shield"Earth Radiant Shield 75%" [ID:28301]
Returns 75% of the damage taken to the attacker as Earth damage for 30 seconds to all allies, grants Haste and Burst Mode to the user
Command 1: Three single Earth/NE attacks (0,65 each, 1.95 max), grants Knight +15% Boost 3"Knight +15% Boost 3" [ID:282004]
Knight abilities deal 15% more damage, lasts for 3 turns to the user
Command 2: ATK and DEF +50% to self for 20 seconds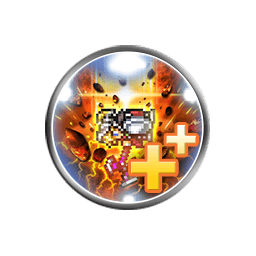 USB "Earth's Loyalty"
Ten single Earth/NE attacks (0,71 each, 7.10 max), ATK and DEF +30% to the user for 25 seconds, grants Attach Earth and Titan Strike Follow-Up"Titan Strike Follow-Up" [ID:50108]
Casts Titan Strike after using a Knight ability for 15 seconds
"Titan Strike"
4/5/6 single attacks (0,34 each, 1.36-2.04 max) at 798/2736 DEF, 100% hit rate to the user
---
Dorgann (FFV)
Ability Schools: Combat 6, Support 4, Spellblade 3, Knight 6, Samurai 2
Estimated Date Activated: March 7th
Legend Motes: Dexterity + Vitality
Legend Materia: LM1"Courageous Decision"
Knight abilities deal 15% more damage, LM2"Crystal Watcher"
35% chance to dualcast Knight abilities, LMR"Traveler of Worlds"
Grants Attach Earth at the beginning of the battle
Legend Dive Candidacy: Yes, with USB.
Notable Abilities: Gaia Cross, Earth Bringer, Earth Saber
Signature Soul Breaks
BSB "Uncharted Lands"
Causes Imperil Earth 20% for 25 seconds, ATK and DEF +30% to all allies for 25 seconds, grants Haste and Burst Mode to the user
Command 1: Four single Earth/Wind attacks (0,49 each, 1.96 max), grants Knight +15% Boost 2"Knight +15% Boost 2" [ID:293]
Knight abilities deal 15% more damage, lasts for 2 turns to the user
Command 2: Three single Earth/Wind attacks (0,47 each, 1.41 max), grants Meikyo Shisui"Meikyo Shisui" [ID:6011]
ATK and RES +30% for 25 seconds to the user for 20 seconds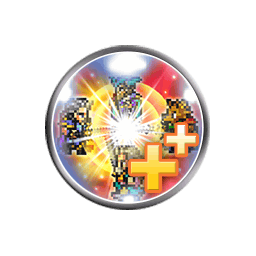 USB "Bonds of the Dawn"
Ten single Earth/NE attacks (0,71 each, 7.10 max), DEF +100% to the user for 25 seconds, grants Attach Earth and Sandstorm Follow-Up"Sandstorm Follow-Up" [ID:50085]
Casts Sandstorm after using a Knight ability for 15 seconds
"Sandstorm"
2/3/4/5/6 single attacks (0,34 each, 0.68-2.04 max) at rank 1/2/3/4/5 of the triggering ability, 100% hit rate to the user
---
Orlandeau (FFT)
Ability Schools: Combat 6, Celerity 6, Spellblade 6, Knight 6, Samurai 6, Darkness 5
Estimated Date Activated: February 14th
Legend Motes: Dexterity + Vitality
Legend Materia: LM1"Unbeaten Knight"
PHY attacks deal 10% more damage, LM2"Sword Saint Above Knights"
Grants Infinite Haste and Instant Cast 3 at the beginning of the battle, LMR"Supreme Swordplay"
25% chance to dualcast Knight or Darkness abilities
Legend Dive Candidacy: Yes, with USB or OSB.
Notable Abilities: Divine Cross, Guardbringer, Assault Saber, Gaia Cross, Earth Bringer, Earth Saber, Thundering Quadstrike, Death Throes, Dark Bargain, Reaping Scythe, Dread Weapon
Signature Soul Breaks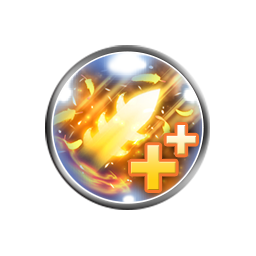 USB "Sword Saint"
Twelve single Holy/Dark attacks (0,58 each, 6.69 max), +100% entry critical chance, grants Cross Slash"Cross Slash" [ID:6016]
Critical chance =100% for 25 seconds and EX: Sword Saint"EX: Sword Saint" [ID:50070]
ATK +50%, dualcasts Knight and Darkness abilities consuming an extra ability use for 15 seconds to the user
---
Marche (FFT)
Ability Schools: White Magic 4, Combat 6, Knight 6, Ninja 4
Estimated Date Activated: Current
Legend Motes: Spirit + Bravery
Legend Materia: LM1"Indomitable Hope"
Increases Holy damage dealt by 10%, LM2"Inescapable Might"
35% chance to dualcast Knight abilities, LMR"Deepest Wish"
Knight abilities deal 25% more damage when equipping a sword
Legend Dive Candidacy: Yes, with USB.
Notable Abilities: Divine Cross, Guardbringer, Assault Saber, Gaia Cross, Earth Bringer, Earth Saber
Signature Soul Breaks
USB "Divine Combo"
Ten single Holy/NE attacks (0,71 each, 7.10 max), grants Attach Holy and EX: Speed Combo"EX: Speed Combo" [ID:50030]
ATK +30%, grants Physical High Quick Cast 1 to all allies in the front row after using a Knight ability for 15 seconds
"Physical High Quick Cast 1" [ID:2024]
Cast speed x3,00 for PHY or NAT attacks that deal physical damage, lasts for 1 turn to the user
---