S Tier Lightning Characters
A nice split here between two physical and two magical characters and each side having a chain. I expect this to change soon with the addition of a third chain. Maybe with that addition of Garnet we'll find a worthy physical character to maintain the balance?
Stay tuned for the update to the lists coming after I've compiled all of the Autumn information!
Kain (FFIV)
Ability Schools: Combat 6, Celerity 4, Dragoon 6
Estimated Date Activated: Current
Legend Motes: Dexterity + Vitality
Legend Materia: LM1"Echoing Roar"
Increases Lightning damage dealt by 10%, LM2"Soaring Dragoon"
ATK +2% for each hit dealt with jump attacks, up to +50%, LMR"Dragoon's Essence"
Dragoon abilities deal 25% more damage when equipping a spear
Legend Dive Candidacy: Yes, with CSB or USB.
Notable Abilities: Lightning Dive
Signature Soul Breaks
OSB "Kain's Lance"
One single Lightning/NE attack (10.50-14.50)
Breaks damage cap
Damage increases with Dragoon abilities used, ranged jump attack
USB "Luminous Dragon"
Ten single Lightning/NE ranged jump attacks (0,71 each, 7.10 max), ATK and DEF +30% to the user for 25 seconds, grants Attach Lightning and Jump Instant Cast"Jump Instant Cast" [ID:2053]
Cast speed x9999999 for Jump attacks for 15 seconds to the user
CSB "Impulse Drive"
Activates Lightning Chain (max 99, field +20%), twenty-two single Lightning ranged jump attacks (0,36 each, 7.92 max)
---
Shantotto (FFXI)
Ability Schools: Black Magic 6, Monk 4, Darkness 4, Witch 5
Estimated Date Activated: Current
Legend Motes: Spirit + Wisdom
Legend Materia: LM1"Peerless Power"
BLK attacks deal 10% more damage, LM2"Beyond Reproach"
Restores HP for 100% of the user's maximum HP and grants Play Rough Mode when HP fall below 20%
"Play Rough Mode" [ID: 279]
MAG +30%, DEF and RES -30%, cast speed x3,00 for 25 seconds, LMR"Master Caster"
10% chance to dualcast Witch abilities twice
Legend Dive Candidacy: Yes, with CSB or USB.
Notable Abilities: Chain Thundaga, Memento Mori, Hell Thunder, Abyssal Shards
Signature Soul Breaks
CSB "Frightening Lightning"
Activates Lightning Chain (max 99, field +20%), eleven single Lightning attacks (1,63 each, 17.93 max), grants Quick Cast 2 to all allies
USB "A Thousand Suns"
Ten single Lightning/Ice/ Fire attacks (1,70 each, 17.00 max), grants Attach Lightning and EX: Twinstrike"EX: Twinstrike" [ID:591]
MAG +30%, dualcasts Witch abilities consuming an extra ability use for 15 seconds to the user
---
Ashe (FFXII)
Ability Schools: Black Magic 6, White Magic 3, Support 3, Summoning 6, Sharpshooter 5, Witch 4
Estimated Date Activated: Current. UOSB in June.
Legend Motes: Spirit + Wisdom
Legend Materia: LM1"Regal Bearing"
Increases Lightning damage dealt by 10%, LM2"Queen's Imperium"
35% chance to dualcast abilities that deal Lightning damage, LMR"Fallen Pride"
Grants Attach Lightning at the beginning of the battle
Legend Dive Candidacy: Yes, with USB.
Notable Abilities: Chain Thundaga, Valigarmanda
Signature Soul Breaks
OSB "Thunder's Echo"
One single Lightning/NE attack (40.00)
Breaks damage cap
—
USB "Empyrean's Edict"
Ten single Lightning/NE attacks (1,70 each, 17.00 max), MAG and RES +30% to the user for 25 seconds, grants Attach Lightning and Lightning Sigil Follow-Up"Lightning Sigil Follow-Up" [ID:50043]
Casts Lightning Sigil after dealing damage with a Black Magic ability
"Lightning Sigil"
2/3/4/5/6 single Lightning/NE attacks (1,42 each, 8.52 max) at rank 1/2/3/4/5 of the triggering ability to the user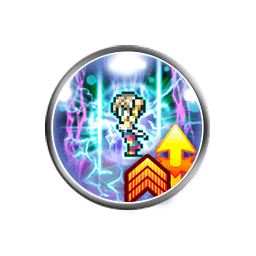 UOSB "Polar Storm"
Three single Lightning attacks (26.50 each, 79.50 max)
Breaks damage cap
—
---
Lightning (FFXIII)
Ability Schools: Black Magic 3, White Magic 2, Combat 6, Celerity 6, Spellblade 5, Sharpshooter 5
Estimated Date Activated: Current. UOSB in March.
Legend Motes: Dexterity + Vitality
Legend Materia: LM1"Bottled Lightning"
Increases Lightning damage dealt by 10%, LM2"Radiant Champion"
Grants Haste and Instant Cast 3 at the beginning of the battle, LMR"Gleaming Blade"
25% chance to dualcast abilities that deal Lightning damage
Legend Dive Candidacy: Yes, with USB.
Notable Abilities: Thundering Quadstrike
Signature Soul Breaks
OSB "Thunderfall"
One single Lightning/NE attack (11.25-13.50)
Breaks damage cap
11,25/12,00/12,75/13,50 multiplier scaling with uses
BSB2 "Focused Bolts"
Eight random Lightning/NE attacks (0,96 each, 7.68 max), causes Imperil Lightning 20% for 25 seconds, grants Haste and Burst Mode to the user
USB "Army of One"
Ten single Lightning/NE attacks (0,71 each, 7.10 max), grants Attach Lightning, EX: Blinding"EX: Blinding" [ID:583]
ATK +30%, grants High Quick Cast 1 after using a Lightning attack for 15 seconds
"High Quick Cast 1" [ID:2020]
Cast speed x3,00, lasts for 1 turns and High Quick Cast 1"High Quick Cast 1" [ID:2020]
Cast speed x3,00, lasts for 1 turns to the user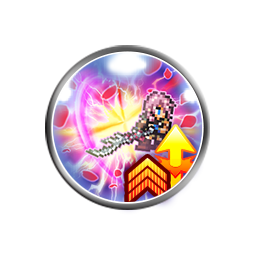 UOSB "Blaze Rush OC"
Twenty single ranged Lightning attacks (0,40 each, 8.00 max), followed by one single ranged Lightning attack (8,00) that breaks damage cap
---